Source for tire and wheel application fitment data
Last Update: Dec. 1, 2023, 4:42 p.m.
Search Form for vehicle model, tire size or rims

Choose a tab below to get fitment data for your vehicle or to find vehicles matching your criteria.
Auto Bild Allrad 2020: SUV Summer Tire Test - 255/55 R18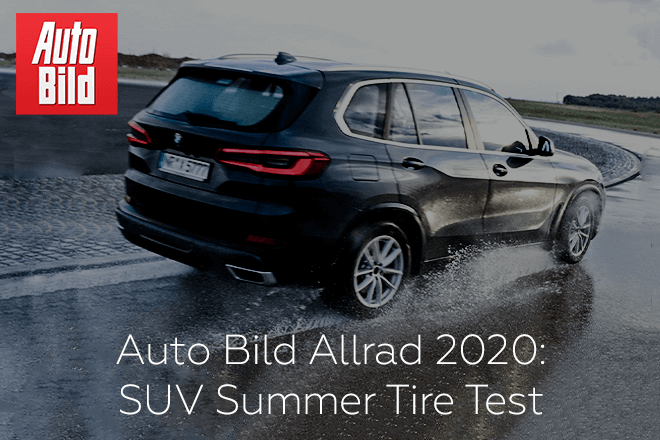 This year, the test of SUV summer tires, performed by Auto Bild Allrad, involved ten tire models of various price segments. The test experts chose a rather large tire size — 255/55 R18 — one of those sizes that fit large four-wheel drive vehicles, such as BMW X5, Mercedes GLE, Audi Q7, or VW Touareg.
List of summer models tested:
Ten models from famous and not-so-famous tire brands. Michelin, Goodyear, Dunlop, and Pirelli need no introduction. The Finnish Nokian tires are mostly popular in Scandinavia. The tires of this brand are manufactured not only in its home country but also in Russia. In addition, March 9, 2020, the USA Nokian plant was put into operation.
The brand Barum, somehow little known in the Western Europe, has belonged to Germany's Continental AG since 1993. Cooper is a fully American tire brand, whose models designed for 4-wheel drive vehicles are just as popular in the USA as Goodyear and Firestone tires.
Since 2009, the Dutch brand Vredestein has been manufacturing tires under the auspices of India's Apollo. At the same time, Maxxis is the flagship brand of Taiwan's tire giant Cheng Chin, while the logo of the Lexani brand, which until now has been mostly known for alloy and forged wheel, can now be also seen on the tires supplied by Korea's tire maker Nexen.
Test Results
Ranking of summer tires from Auto Bild Allrad 2020
The summer tires Lexani LX-Thirty were the cheapest in this test (almost 50% less expensive than the Michelin tires), but also, regrettably, the worst. As the technical expert notes, the reason why this tire ended up getting a «Not recommended» verdict, the only one that was given during this test, was their totally inadequate braking performance on wet pavement: fitted with the premium Michelin tires, the test car came to a full stop from 100 km/h after 46.4 meters, while the budget Lexani tires needed a whopping 68.3 meters. Meaning, their stopping distance was almost 22 meters longer!
The other, also not the most expensive tires out there, involved in the test by Auto Bild Allrad 2020, namely Nokian Powerproof SUV, Cooper Zeon 4XS Sport, Maxxis Victra Sport 5 SUV, and Barum Bravuris 5HM, did not do such mistakes in any of the test disciplines. At the same time, they did, of course, have their weak sides, but their strong sides proved to be enough to bring them a «Satisfactory» overall verdict.
Two summer models, namely, Pirelli Scorpion Verde and Goodyear Eagle F1 Asymmetric 3 SUV, were rated as «good», even in spite of the fact that the latter had a «3+" in its portfolio, which was nevertheless fully compensated by the top score for dry handling.
In 2020, the «Exemplary» verdict was bestowed on three tire models at once; however, there was only one indisputable winner. And this was the Michelin Pilot Sport 4 SUV, which, even if not the first in a discipline, would inevitably make the top three. According to the expert team of Auto Bild Allrad, the only drawback of this model is its high price.
The Dunlop Sport Maxx RT 2 SUV was able to climb the second stair of the winners' pedestal thanks to its balanced performance both on wet and dry pavements, while the bronze prize winner, Vredestein Ultrac Satin demonstrated great dynamic handling on wet pavement, low noise emission, and high fuel efficiency. The good price/quality ratio also played a part.
Conclusion
The bright performance by the Michelin SUV summer tires in the Auto Bild Allrad test yet again proved that when you buy a new set of tires, it is always better to spend a little bit more than the average price. Buying cheap tires, you are saving in the wrong place.