Source for tire and wheel application fitment data
Last Update: Dec. 5, 2023, 10:36 a.m.
Search Form for vehicle model, tire size or rims

Choose a tab below to get fitment data for your vehicle or to find vehicles matching your criteria.
ADAC 2020: Summer Tire Test - 235/55 R17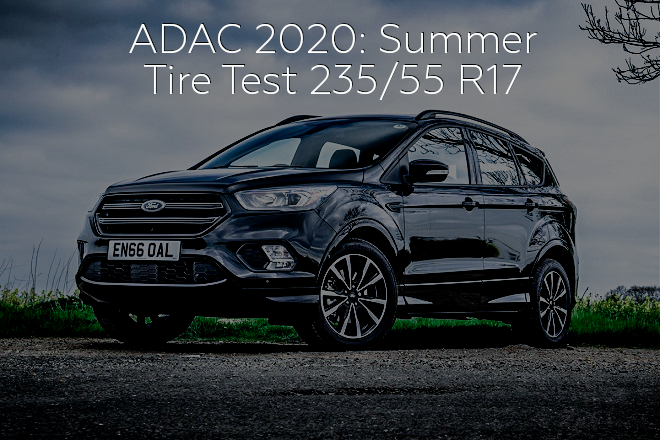 Last year's test of commercial tires in the dimension 215/65 R16C, which ADAC performed by the same procedure that it used for testing passenger-car tires, elicited mediocre results from most of the models. This is why this year the publication's experts decided to conduct a test of summer tires in size 235/55 R17, which can be fitted both on midsize SUVs and light minivans.
This particular size is not only available on the aftermarket, but is also used as original equipment, for example, on Volkswagen Transporter T6, which in this instance was the test car.
Cars that can be fitted with tires of size 235/55 R17

| Manufacturer | Model series |
| --- | --- |
| Audi | A7, Q3 |
| Ford | Galaxy, Kuga, S-Max, Tourneo Coustom |
| Jaguar | XF |
| Mercedes | S-Class, V-Class |
| Opel | Astra GTC, Cascada |
| Volvo | S60, V60, XC60 |
| VW | Phaeton, Tiguan, T6 |
We will note at this point that this is already the second ADAC summer tire test. The first one involved 16 sets of summer tires in size 225/40 R18, rather popular among the owners of golf-class cars.
List of summer models tested:
ADAC experts' impressions
Looking at the results demonstrated by the tires, the German experts emphasized that for minivans, which are chiefly used privately, fitting alternative tire sizes does make sense. The ADAC summer tire test 2020 showed that, safety-wise, almost all of the participants demonstrated significantly better results than the C-class tires did during the last year's test.
The differences were sometimes huge, especially when it came to wet traction. Looking at the braking performance test from 80 to 20 km/h, we will see that the best result was scored by Kumho Ecsta HS51 (35.8 m), and the worst — by Maxxis Premitra 5 (41 m), but the braking distance ensured by Maxxis is still shorter than that of the best commercial tire in a similar test, which was conducted in 2019!
Safety first, of course, but it does come at a price: the average expected mileage of the 17-inch tire is considerably shorter than that of the light-truck tire models.
Test Results
It's good when it's «Good»
1st place: Michelin Primacy 4

Quick Take
Michelin Primacy 4
Available Sizes in Line: 80
Year Released: 2018

Regions for sale:

Asia

,

Latin America and the Caribbean

,

Europe

,

Eastern Europe & Central Asia

,

Oceania
To score a «Good» verdict from the expert team, the tested tires were to demonstrate not only dependable performance on wet and dry pavements, but also high resistance to wear, and ensure low fuel consumption by the vehicle. The best total result was shown by the Michelin Primacy 4 (1.9 points), which further stood out from the prize-winning group of tires with its highest treadlife score. Its expected mileage is almost 46700 km.


2nd place: Bridgestone Turanza T005

Quick Take
Bridgestone Turanza T005
This tire has run-flat model:

Available Sizes in Line: 121

Original Equipment (OE) tires for:

• Audi A7 4G9 [2018 .. 2020]
Year Released: 2018

Regions for sale:

Americas

,

Europe

,

Eastern Europe & Central Asia

,

Middle East & North Africa

,

Oceania
It must be admitted, however, that the treadwear of Bridgestone Turanza T005 (2.1 points) and Maxxis Premitra 5 (2.3 points), who occupied the second and the third lines in the final standings, is also high enough. The approximate expected mileage of these tires are 41400 km and 37000 km respectively.


3rd place: Maxxis Premitra 5

Quick Take
Maxxis Premitra HP5
Year Released: 2015

Regions for sale:

Europe

,

Eastern Europe & Central Asia

,

Oceania
The expected mileage of Pirelli Cinturato P7 (2.3 points), which shared the third place with the Maxxis model, amounted to 35000 km, which can also be considered a good result. But then again, in this test, the Pirelli model showed a relatively decent total result against the background of the unsuccessful performance by P Zero model in other summer tire tests conducted this year.


4th place: Pirelli Cinturato P7

Quick Take
Pirelli Cinturato P7
Year Released: 2009

Regions for sale:

Eastern Asia

,

Americas

,

Europe

,

Eastern Europe & Central Asia

,

Oceania
By the way, for the summer season 2020, Pirelli launched the second generation of the Cinturato P7 tire model, which one will be able to tell by the P7C7 sign on the tire's sidewall.
Seven times «Satisfactory»
Three summer tire models fell just a little bit short of the «Good» verdict, scoring 2.7 points each in the final standings: Hankook Ventus Prime3 (K125), Semperit Speed-Life 2 SUV, and Yokohama BluEarth RV-02. The test experts placed them on the joint fifth line of the tournament bracket. On dry pavement, the performances of these models were virtually identical; on wet pavement, however, the Hankook model slightly surpassed the others, whilst Yokohama ensured a quieter ride, and Semperit demonstrated higher resistance to wear.
The eighth line of the tournament bracket is again shared by still another tandem, this time consisting of a very strange couple — one of the most expensive tires on test, Continental EcoContact 6, and, possibly, one of the most budget ones, Esa+ Tecar Spirit Pro (scoring 2.8 points each). It feels rather weird to suddenly realize that, despite the significant difference in price, these two tires have scored equal total number of points for wet performance and treadlife.
For the Esa-Tecar Spirit Pro and the Continental EcoContact 6 models, this ADAC test is their debut one. And, if for the economy-class model this result constituted a minor triumph, for the Continental EcoContact 6, scoring the eighth place, and doing so together with a budget model is nothing but a failure. Possibly, it was due to its weak performance that this tire only appeared in the tests a year and a half after it was announced.
The Kumho Ecsta HS51 (3.0 points) model crossed the finish line only the tenth. In spite of securing the highest score on wet pavement, this tire surprisingly completely failed the dry test, scoring the lowest grades. The tenth place.
Eleventh to cross the finish line was the Kleber Dynaxer HP3 (3.3 points). It was massively failed by its poor traction on wet pavement and increased noise emission.
«Inadequate»
The summer model Laufenn S Fit EQ, manufactured under a subsidiary brand of Hankook, was the only tire to get an «unsatisfactory» verdict from the ADAC experts in 2020. Curiously, S Fit EQ delivered on dry pavement an even more convincing performance than, for example, Hankook Ventus Prime3, but the lack of balance and its scores on wet pavement are downright disappointing. The Hankook designers must have noticed it already: this spring, this model will be replaced by its successor, Laufenn S Fit EQ+ with an upgraded tread compound.
Treadwear test
The treadwear test of the 235/55 R17 summer tires was performed at the test facility, the results being further checked by transport columns on the road.
The predicted mileage of the test tires
Kumho

Pirelli

Laufenn

Maxxis

Yokohama

Kleber

Hankook

Bridgestone

Michelin

Semperit

Esa-Tecar

Continental

Average 215/65 R16 C
---
The elicited differences are pretty obvious, but none of the models had its final score lowered because of the treadwear results. However, the average expected mileage of the tires that were involved in this test, from 34500 km to 48300 km, is significantly lower than that of the tires in size 215/65 R16C, tested last year.
Besides the ADAC tests, there are plenty of tests performed by other industry publications available on our website.