Source for tire and wheel application fitment data
Last Update: Dec. 1, 2023, 10:46 a.m.
Search Form for vehicle model, tire size or rims

Choose a tab below to get fitment data for your vehicle or to find vehicles matching your criteria.
ADAC 2020: Winter Tire Test R17 for SUVs and minivans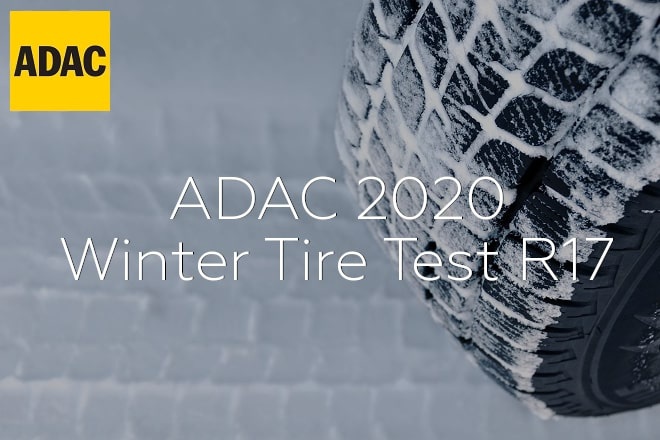 The expert team of the German motoring association ADAC dedicated its second test of the winter season 2020/2021 to SUV and minivan tires. Their choice fell on the 235/55 R17 tire size, suitable for such cars as Audi A7 and Q3, VW Tiguan, T5, T6 and Phaeton, Ford Galaxy, S-MAX, and others.
Vehicle overview of the dimension 235/55 R17

| Manufacturer | Model series |
| --- | --- |
| Audi | A7, Q3 |
| BMW | X3 |
| Ford | Galaxy, Kuga, S-MAX, Tourneo Custom |
| Kia | Sportage |
| Opel | Astra, Cascada |
| Volvo | S60, V60, XC70 |
| VW | Tiguan, T5, T6, Phaeton |
List of winter models tested:
The test car was a Ford Kuga. «Wet» tests were performed at the Contidrom proving grounds near Jeversen, Germany; tests in snow disciplines were performed at the Ivalo test facility, Finland.
Results of the winter tire test
Out of all the 13 models tested, only one demonstrated truly well-balanced performance and was rated as «Good». By and large, 11 other models could also be recommended, but each of them had minor issues at least with one key safety criterion.
Due to issues on dry pavement, one model was rated as «Average». For comparison: in the 205/55 R16 passenger-car tire test conducted by ADAC, two winter models fell short of earning any decent recommendation for use at all, while five models on test were rated as «Good».

Quick Take
Kleber Krisalp HP3
Year Released: 2016

Regions for sale:

Europe

,

Eastern Europe & Central Asia
Well-balanced performance? Test winner
The Michelin Pilot Alpin 5 was the only model on test that demonstrated excellent results on all winter surfaces. Fitted with these tires, the test Ford Kuga demonstrated crisp steering response on dry pavement, at the same time ensuring a high level of safety during various maneuvers. On wet pavement, the PA5 yields particularly good handling response, yet its weak side is lateral hydroplaning resistance: by this specific criterion, the French tire model scored the last line in the test protocol.
On snow, the Pilot Alpin 5 surpasses all of its rivals. On ice, in terms of noise and fuel consumption, this tire model stayed consistently in the middle, and, generally speaking, the «Good» verdict in the final standings can be considered well-deserved. At the same time, one must mention the fact that this tire comes at a price that is not exactly affordable.

Quick Take
Michelin Pilot Alpin 5
Year Released: 2014

Regions for sale:

Northern America

,

Europe

,

Eastern Europe & Central Asia
The Michelin Pilot Alpin 5 model has been available on the market for three years, but it showed up in independent tests only recently, in 2020, notes the technical expert of tiresvote.com. Just like in this test, in the Auto Bild 245/45 R18 tire test, whose results were announced a few days earlier, this model came second out of 51 contestants. The perfect start for a track record, even if slightly belated.
In the middle
The eleven tires that scored a «Satisfactory» verdict can be conditionally divided into three groups. The first group includes tires, which, while showing good traction on snow, ice, and wet pavement, got devalued in the final standings because of the issues that popped up in the dry. So, if you are prepared to sacrifice steering precision on dry pavement, you may well go for Goodyear UltraGrip Performance+ (2nd place), and Kleber Krisalp HP3 and Bridgestone Blizzak LM005 (shared the seventh line in the tournament bracket). The latter stands out with its confident behavior on wet pavement: it ensures both great handling response and efficient braking performance.

Quick Take
Vredestein Wintrac Pro
Year Released: 2018

Regions for sale:

Northern America

,

Europe

,

Eastern Europe & Central Asia
The second group of models that are «conditionally, but still recommended», according to the experts, includes the «decent performers» Dunlop Winter Sport 5 SUV and Vredestein Wintrac Pro models, which shared the fourth place. Both of them demonstrated good results on dry and wet pavement, and on ice as well. Their snow performance, however, was only on an average level: these tires are prone to understeer, and cannot successfully combine traction and cornering force, which compromises the handling precision. Hence, these Dunlop, and Vredestein models are only conditionally recommended for regions with little snow in the wintertime.

Quick Take
ESA-Tecar Supergrip Pro
Year Released: 2019

Regions for sale:

Europe
The third group consists of six models, which could only achieve average results at least in two key safety criteria. Esa+ Tecar SuperGrip Pro (2nd place), Cooper Discoverer Winter (10th place), and Fulda Kristall Control SUV (10th place) show their weak sides on dry and wet pavement. The Nokian WR Snowproof (6th place) falls short of its competitors on wet pavement and on ice. The Continental WinterContact TS850P (12th place) could not make it beyond average on dry pavement and on ice. The Pirelli Winter Sottozero 3 (7th place) only scored three points on dry pavement, snow, and ice.

Quick Take
Fulda Kristall Control SUV
Available Sizes in Line: 12
Year Released: 2017

Regions for sale:

Europe

,

Eastern Europe & Central Asia
The bottom line of the tournament bracket is occupied by the Semperit Speed-Grip 3 SUV (13th place). The test car, fitted with these tires, behaved slightly unpredictable on dry pavement, because of which the ADAC expert team could not rate this tire model any higher than «Average». On wet pavement and on snow this model was only rated as satisfactory.

Quick Take
Semperit Speed-Grip 3 SUV
Available Sizes in Line: 8
Year Released: 2017

Regions for sale:

Europe

,

Eastern Europe & Central Asia
Debuts and controversies
For two new models, the test debuts were radically opposite. The Esa+Tecar SuperGrip Pro, the most inexpensive model on test, scored second place, sharing it with such a monster as the Goodyear UltraGrip Performance+, being at the same time a third less expensive and featuring virtually the same EU tire label. The other new model — the Semperit Speed-Grip 3 SUV tire model from Germany's Continental AG debuted by scoring the last place and an «Average» verdict.
What's particularly ironic about this story is the fact that for a second time already the budget tire Esa+Tecar dealt a symbolic blow to the image of Continental AG. In the ADAC 2020 summer test, the Esa Tecar Spirit Pro, being one and a half times less expensive than the Continental EcoContact 6, shared with it the same place in the final standings, which we already covered in detail in our blog. With such dark horses around, the top-class brands will have a very hard time trying to justify the expensive prices of their product with a «premium-class» image.
In conclusion
The ADAC test experts were hard on the SUV and minivan tires, yet all of the 13 models on test were recommended for use. When buying a new set of tires based on the most likely weather and road conditions, be prepared to put up with some performance loss when the road conditions happen to be different from what you expected. Better yet, do not drive in such conditions if you can help it.